WHY SHOULD YOU BOOK DIRECT?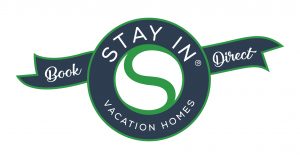 BOOKING FEES
When you make a reservation through a travel booking site such as VRBO or Airbnb, you will pay a Booking Fee (aka Service Fee).  It was not always this way.
IN THE GOOD OLD DAYS
VRBO used to be a straightforward vacation rental home listing website.  Owners paid VRBO an annual fee to list their homes, and travelers could contact owners directly and make a reservation without paying any additional fees.
CORPORATIONS TAKE OVER

Starting around 2006, travel companies such as HomeAway realized they could inject themselves between these owners and travelers and make huge profits.  Consequently, in the span of a decade, HomeAway acquired VRBO along with many other trusted vacation rental websites.
Also during this decade, Airbnb was launched and took off.
In 2015, the travel booking company Expedia acquired HomeAway.  Despite promises to the contrary, Expedia-owned VRBO started charging travelers Service Fees.  These Service Fees are in addition to the annual fees HomeAway charges owners and the credit card transaction fees it also charges owners.
What was initially established as a marketplace between homeowners and travelers has been stealthily taken over by corporations.
How does this affect all of us?  We pay unnecessary premiums to travel, directly in the form of service fees imposed on travelers AND indirectly in the form of service fees imposed on owners, who then must pass these costs on to their guests.
OUR RESPONSE – THE #BOOKDIRECT MOVEMENT

Owners are responding to this corporate takeover of the business of renting our own homes.  Over the past few years, websites that are committed to returning to the original model have cropped up.  Some are worldwide, such as www.Houfy.com, and others are regional. You can find these websites listed on www.StayInVH.com.
StayInArnold.com is an example of a regional vacation rental home listing website.  However, StayInArnold.com goes beyond the original model, in that we are a NON-PROFIT website.  Not only is there is no booking fee imposed on guests or on owners, but no third party is profiting from introducing guests to owners.
Owners, be brave!  Continue, if you wish, to list your homes on the expensive, corporate websites, but also list them on the free websites that have our collective interests at heart.  Travelers, be smart!  Search on www.StayInVH.com to find hosts who will book directly.  (You can still find many of us on the big-name websites and then find us for less elsewhere.)  Over time, the name recognition and power of the free websites will grow, diminishing the stranglehold of VRBO and Airbnb.
We are not corporations.  We are people who love the Arnold area, who own homes here and who defray the cost of owning our homes by renting them to travelers who also wish to appreciate this area.  Our goal with this website is to completely remove the profit-making intermediary from the personal transaction of renting our homes to travelers.